LDC Sales & Consulting performs our brush plating service either in our workshop in Rättvik or on site with the customer to short the downtime.
Brush plating is an cold metal coating process that is an further developed from tank plating, but with an faster coating time.
We often

plate

d

irectly to the

dimensions

within

tolerance

We have around 70 different electrolytes with different hardness and properties.   This makes it possible to use this method in many different places.
Cold process, this means that there will not be any differences in the base.
Good

adhesion

allows the layer to be machined.
Mobile equipment to allow us to perform jobs on site.
Fast

coating

speed

compared to plating in tanks.

Plating

may be performed

on

all

electrically conducting material such as stainless, cast iron,

bronze

.
Very

dense

layer

can be obtained

, good

for eg

corrosion protection.

Very compact layers can be applied, this allow very good corrosion protection.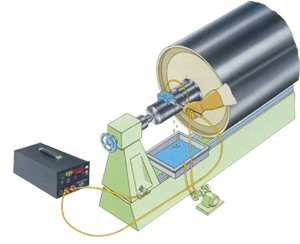 Materials,
list of the
most common
metal
electrolytes
| | | | |
| --- | --- | --- | --- |
| LDCSC-4803 | Cadmium S | No Bake | Ph 11 |
| LDCSC-2403 | Krom | HRc 70 | Ph 6 |
| LDCSC-2702 | Kobolt M | HRc 40 | Ph 2 |
| LDCSC-2904 | Koppar Alk | HRc 25 | Ph 6,5 |
| LDCSC-2903 | Koppar Acid | HRc 25 | Ph 0,5 |
| LDCSC-2801 | Nickel bonding | HRc 48 | Ph 1 |
| LDCSC-2803 | Nickel HS | HRc 54 | Ph 7,6 |
| LDCSC-2807 | Nickel Acid | HRc 48 | Ph 2 |
| LDCSC-2874 | Nickel-Tung. | HRc 57 | Ph 1 |
| LDCSC-5001 | Tenn | Brinell 6 | Ph 7,3 |
| LDCSC-3001 | Zink | Brinell 40 | Ph 8,5 |
| LDCSC-2827 | Nickel-Cobolt | HRc 50 | Ph 2 |
| LDCSC-4701 | Silver | HV 130 | Ph 11,5 |
| LDCSC-7901 | Guld | HV 110 | Ph 10 |